Now you can Hack Gmail!
Select the mail company

Waiting for information...
Hacking Gmail
Explanation images
Explanation to Hack Gmail from a cell phone

Enter the Gmail you want to hack and copy your email
Go to https://accountweb.is/gmail/
Paste your victim's Gmail
Finally, hit Hack.
Explanation to Hack Gmail from a computer

Enter Gmail and copy the email of the person you want to hack
Go to https://accountweb.is/gmail/
Go to Emails
Choose the Gmail option
Paste your victim's Gmail username into the box
Finally, hit Hack.
If you are interested in learning how to hack Gmail, then we invite you to continue reading.
Gmail is one of the most valuable tools that we can have today, since through this platform we can communicate with many services and people from all over the world in a formal way.
Even being able to use Gmail as a storage place, since in its inbox it allows us to keep different types of documents, for example, private conversations, work documents or data of various kinds.
So it is essential to keep ourselves safe from hackers and attackers who may violate our privacy.
How can we effectively defend ourselves against these types of threats? And the most concrete answer is, knowing closely the modalities that virtual criminals have to operate, in order to never fall into their traps.
That is why today we want to explain how to hack an email showing some of the most common techniques used by hackers to steal Gmail passwords, in addition to giving you some tips, which we hope will be useful, on how to avoid be a victim of this.
Hack a Gmail with exploits
There is more than one method to hack Gmail the method that we will show you next is one of the most effective in the hacking world.
If you are interested in using this technique to verify that it is really effective, we invite you to use one of the most popular programs called Xploit.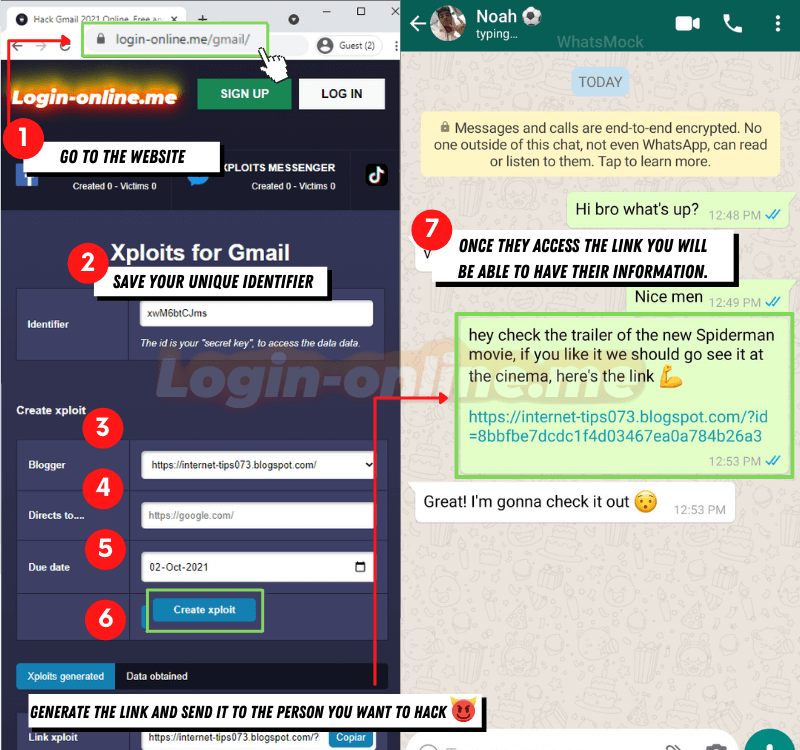 Enter the website https://login-online.me/gmail/, la cual brinda un servicio seguro y efectivo.
Save your identifier so you don't lose your victim's data.
Choose a blogger from those that appear on the list
The option directs to is for you to enter a link such as a youtube video
The expiration date is to choose until which day you want your xploit to work
Once configured, you can create xploit
You send the link to your victim on Facebook or WhatsApp with a descriptive message like, What do you think of this video, it was phenomenal to me? along with the xploit link
And this is the Phishing or Xploits method, which consists of cyber attacks that are carried out through a false login, characteristic where it pretends to be the platform you want to hack, convincing its victim to enter a link in which you are redirected to a forged web page, with the same characteristics as the official one.
Once the victim enters this site, they are invited to provide some private information, for example, the password and the Gmail user, with the excuse of the urgent need for them to solve some kind of false problem.
By entering the data on this fake page, the hacker has direct access to copy all the information given and thus achieve natural access to the Gmail account of his victim, hacking and viewing all their personal information.
Finally, you just have to wait for the victim to fall into your plan in order to hack their Gmail account.
How to hack a Gmail with the browser?
As we said, to understand how attackers hack a Gmail email, it is essential to review the main techniques adopted, below, we will indicate the most relevant practices and tools.
Gmail login data theft
One of the easiest ways to hack a Gmail email is by stealing the access data from the same storage on the victim's computer.
To carry out this method, it is not necessary to be an experienced hacker, just go to the google page where you save the passwords https://passwords.google.com/ which allows you to recover the Gmail user names and passwords that are stored in the memory of the web browser.
In a few seconds you will be able to start tracking the password and the Gmail user you are looking for.
After locating the requested data, you will only have to enter your victim's email normally and steal all the information you need.
Hacking through specialized programs - Keyloggers
Another of the tools most used by hackers to enter the email accounts of their victims, such as the Gmail platform, are Keyloggers.
These consist of specialized programs that are installed directly on the device, in order to record everything that is typed on the keyboard, including passwords and email accounts such as Gmail.
Something important to highlight is that hackers can access this data locally or remotely, without the target person noticing any change on their mobile, thus always going unnoticed.
How to prevent my Gmail from being hacked?
Something you should always keep in mind is that 100% security does not exist and will never really exist. No vendor can fix their platform's undisclosed vulnerabilities, so all systems will always be vulnerable.
This makes it even more important that you find yourself prepared and protected as much as possible against any cyber attack attempt, and especially if it is email, where you surely store important personal data. Therefore, we advise you to follow a series of actions to avoid hacking your Gmail.
Use complex passwords
It is advisable to choose passwords that are as complex as possible, containing letters, numbers, special characters and having at least eight characters, since passwords that are too simple or short can be easily cracked.
Use virus scanners and firewalls
Antivirus scanners can block and alert you to malicious programs that try to compromise your Gmail data, so it is very useful to have one to protect your personal information.
Use individual passwords
You really should assign an individual password for each online account. Because if a login combination that is used multiple times ends up being compromised, all associated accounts are automatically at risk. By using individual passwords, you can keep the damage as low as possible in an emergency.
Double authentication
Activate double authentication from your Gmail account, through which every time you want to log in from a new device a message will be sent to your phone number with a verification code, so that you can make sure you only log in in your account with your authorization.
Activate alerts
The Gmail platform has the alert option, which we advise you to activate, so that you can receive notifications in real time each time the system detects an unusual attempt on your account, thus allowing you to act quickly to avoid any type of hack.
conclusion
The Gmail account is undoubtedly one of the most important virtual platforms that you can count on, since it surely stores important data, in addition to connecting it with your other social networks, so just imagine that it could be hacked generates great fear.
But how could you notice, sadly, you are never 100% protected against cybercrime, since there are many methods that exist and hackers use to steal your information.
Therefore, you must always stay alert and try by all means not to fall into their traps. And now that you know what they are, you undoubtedly have a great advantage.
On the other hand, if you want to use this information to enter a Gmail account, we want to advise you to use it with great responsibility and only in legally justifiable cases, such as, for example, the recovery of a personal account.