Now you can Hack Hotmail!
Select the mail company

Waiting for information...
Hack Hotmail and Outlook
Steps to Hack an Hotmail o Outlook
How to Hack Hotmail o Outlook from a Mobile

Enter your victim's Hotmail o Outlook and copy the Hotmail o Outlook
Go to www.accountweb.is
Paste your victim's Hotmail o Outlook in the box
Finally, hit Hack.
How to Hack Hotmail or Outlook from a Computer

Enter your victim's Hotmail o Outlook and copy it
Go to www.accountweb.is
select the Email option
Select in the Hotmail o Outlook section
Choose the option either Gmail, Hotmail or another
Finally, hit Hack.
Microsoft is one of the world's largest technology companies, which has a number of applications among which are very popular specialized services in electronic messaging, such as Hotmail and Outlook.
You may be wondering how a tech giant is vulnerable to hackers, well we will show you some methods to hack Hotmail and Outlook. Which are most commonly used.
Specialized program to hack Hotmail and Outlook.
Obtaining Hotmail and Outlook passwords is really a very simple operation to perform, as long as you have physical access to the victim's computer and also the availability of certain specialized programs that practically do all the work for you, such as, for example, the MSNLive Password Decryptor software.
As its name suggests, MSNLive Password Decryptor is a free program for Windows that performs the function of extracting Hotmail, Windows Live, MSN and Outlook passwords stored in web browsers.
Its use is very simple, you just have to:
Enter the program's official website and download it directly to your victim's PC by clicking on the green download button three consecutive times.
Once the download is complete, you must open the downloaded Zip file and run the application installation.
In the window that will open, you must click on "Yes, Next, I accept the terms of use of the program" by placing a check mark next to the item and agreeing to the license terms.
Then, you will be able to finish the installation process of MSNLive Password Decryptor and start using it.
Once the process is completed, the application will start automatically and you will only have to click on the Start Recovery button, located in the upper right corner of the program, to instantly see all the Hotmail and Outlook passwords saved on the PC.
Initially, the passwords are displayed behind asterisks, but just select the show password option to reveal all stored passwords, and then proceed to copy them and log in to your victim's Hotmail and Outlook as normal.
Hacking Hotmail and Outlook using the PHISHING method
Phishing is one of the most commonly used methods when it comes to hacking an email platform such as Hotmail and Outlook, as it is possible to do it through the system itself.
What is Phishing?
It consists of a technique where the hacker sends an email to his victim inviting him to enter a link that is provided, with a very credible excuse such as, for example, a system error that forces him to verify his account.
When the victim clicks on this link, he/she is redirected to a fake page of the social network the hacker wants to breach, in this case Hotmail or Outlook.
In this page you are asked to enter your access data, as the page is completely the same as the original one, it rarely arouses suspicion, so it is very likely that the victim falls into the trap and reveals his personal data to be hacked.
If you want to use this method to hack Hotmail and Outlook, we recommend using the Xploit platform, with which you just have to follow the steps below.
Step 1
Go to https://login-online.me/ and select the Hotmail or Outlook option to generate your fake login page.
Step 2
Devise a credible email in which you must include the link that Xploit will provide you to trap your victim, with an excuse that will lead them to enter their access data.
Step 3
Finally, you just have to wait for him to fall into your trap and provide without any suspicion his access code and Hotmail and Outlook user. Data that you will be able to visualize through a 2nd link that will provide you the page https://login-online.me/to download them without any type of problem.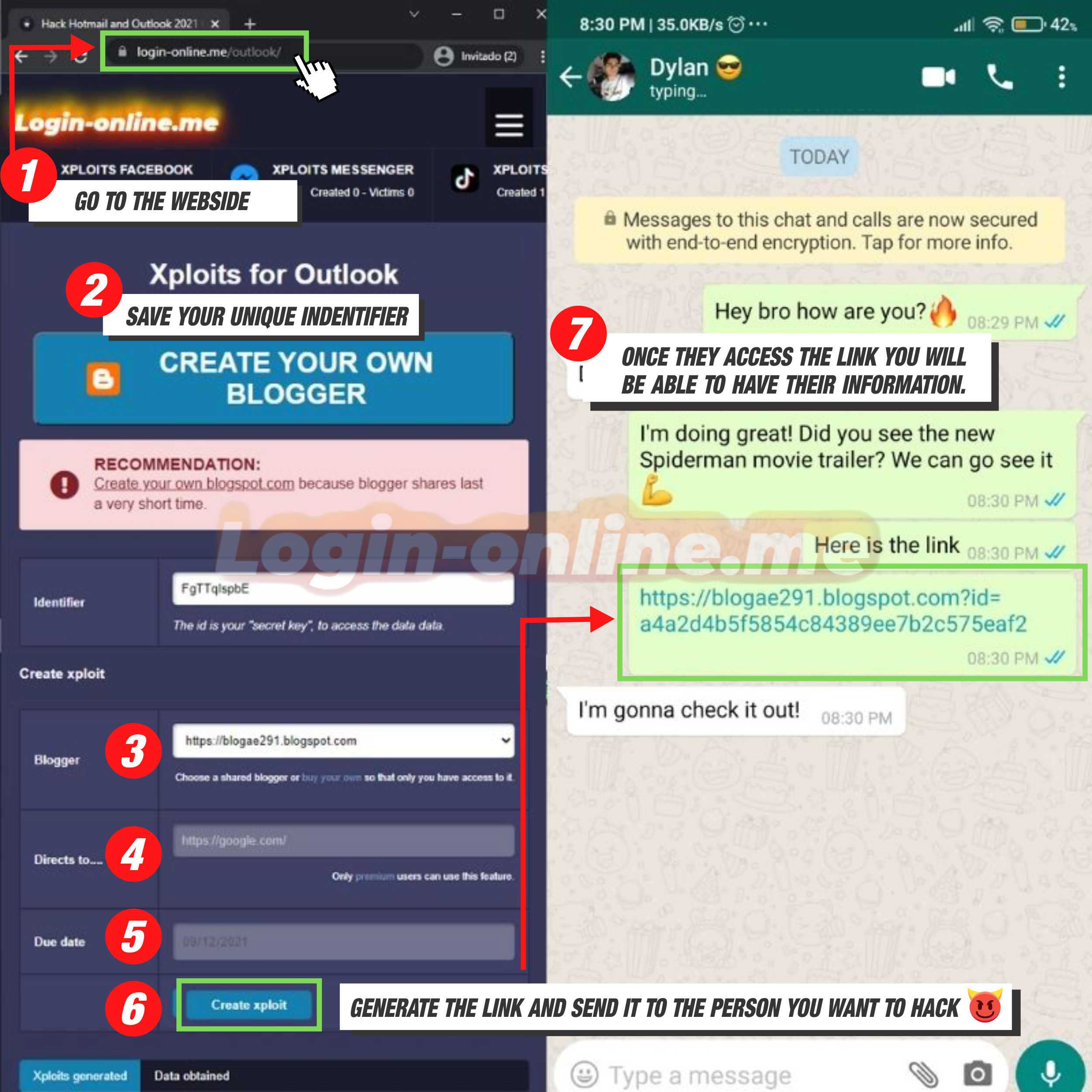 Other programs to hack Hotmail and Outlook
Another program very similar to the one we explained in the beginning is Browser Password Decryptor. Although it is not focused on a particular service, it allows you to steal Hotmail and Outlook passwords by recovering them from the data stored in Chrome, Firefox, Internet Explorer and other web browsers.
If you want to test its potential first hand, you should follow the steps below:
Connect to this web page and click three times in a row on the green download button to download it to your PC.
Once the download is complete, double-click the downloaded file and run the Setup_BrowserPasswordDecryptor.exe program to start the Browser Password Decryptor installation process.
Once the installation is complete, click the Start Recovery button in the upper right corner and, as if by magic, you will get the list of all the usernames and passwords saved in the browsers installed on your PC.
Reasons to hack Hotmail and Outlook
Who has not been a user of these electronic platforms? Surely most people today use or have used these messaging systems. Thus demonstrating the great reach that Hotmail and Outlook have.
Through these systems we can not only communicate with other people formally and informally. In addition, in most cases we usually link these email accounts with our users of different social networks, storing, therefore, a lot of personal information through these platforms.
The latter is clearly one of the reasons why many people want to learn how to hack Hotmail and Outlook.  Either because they have forgotten the password to their personal account or because they even want to log into someone else's account to corroborate certain information.
No matter what your case is, if you want to know the login credentials for Hotmail and Outlook for some accounts, your only option is through hacking.
How to protect your Hotmail and Outlook from hacks?
After discovering this type of tool, you are probably concerned about protecting your Hotmail and Outlook accounts, so we are going to give you 3 simple but very effective tips that will help you sleep soundly knowing that all your information is safe and secure.
Avoid saving passwords in your browsers
Although it is very convenient to do so, it is better that you prohibit the web browsers you use to save your Hotmail and Outlook passwords automatically, as this will ensure that they are not registered in your browser and that no one has access to this data.
Do not enter data in unknown links
Thirdly, never enter your personal data from a link sent to you by email. Instead, go directly to the platform's web page and from there carry out the processes you want, so you will avoid being confused with counterfeit pages.
Security questions
Second, set security questions to reset your online account passwords so that only you really know the correct answers.
For example, if all your friends know what your favorite team is, don't use that topic in your security questions or, better yet, enter answers that have absolutely nothing to do with the questions they refer to. This way you will prevent someone from getting into your account using the standard password recovery functions.
Conclusion
Emails such as Hotmail and Outlook are often sources of valuable confidential information that undoubtedly arouses the curiosity of third parties to know what is stored there. This is the reason why hacks to these platforms are at the top of the list of cyber vulnerabilities.
If in your case you wish to enter someone else's account to discover certain documents that this person may store in their email, we ask you to think very carefully before hacking into their account, as it is important to respect the privacy of others, even considering the violation of data as a crime.
Therefore, we recommend that you use the information provided above with total responsibility and care, only proceeding to implement it in fully justifiable cases such as the recovery of a personal account or the care of a family member who deserves it, such as a minor.