Now you can Hack an Instagram!
Insert the Instagram username:

Waiting for information...
Hack Instagram
Explanation images
Explanation to Hack Instagram from a cell phone

Enter the Instagram you want to hack and click on the three dots
Copy the profile URL
Go to https://accountweb.is/instagram/
Paste your victim's Instagram link
Finally, hit Hack.
Explanation to Hack Instagram from a computer

Go to Instagram and copy the link of the person you want to hack
Go to https://accountweb.is/instagram/
Choose the Instagram option
Paste your victim's Instagram username into the box
Finalmente, darle en Hackear.
Instagram is an incredibly popular social media platform these days, which has evolved rapidly since its origins, modifying its main concept in which its users used it as a simple virtual photo album, through which they interacted with their contacts through likes. and comments.
Currently this is not only the case, since, through a variety of updates, various options have been included, such as private chats, daily history records and even commercial stores within the same app, thus expanding not only the possibilities of this application as a social network, but also as a workplace for many users.
Therefore, we fully understand the risk posed by the fact that many malicious people resort to hack Instagram to take advantage of the followers and the content of accounts with great popularity.
However, we also consider that the only way to prevent these actions is by knowing how the enemy thinks and by informing us about the techniques they usually use. So this time we want to present you a practical guide on how to Hack Instagram so that you can guide yourself and protect yourself.
How to Hack Instagram Online?
Hack Instagram with xploits
Following a series of steps that we will indicate below, you will learn how to use xploits with social engineering to hack an Instagram.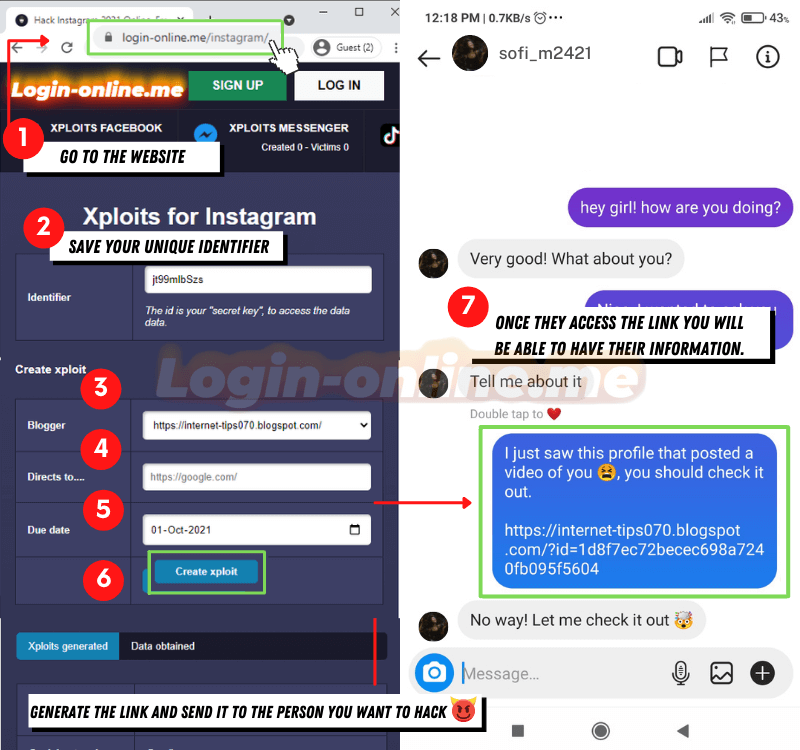 To hack Instagram with xploits you must:

1️⃣ Go to https://login-online.me/ which has a powerful software to detect passwords.

2️⃣ So that you do not lose your victims, save the Identifier that the website generates for you.

3️⃣ Choose a blogger from those available

4️⃣ In this step, social engineering is applied, since you will make your victim believe that he will see some content only to obtain his data

5️⃣ The expiration date is until the day the blogger you created will stop working

6️⃣ Finally create your xploits, we recommend that you first test it before sending it

7️⃣ Send your victim through Instagram, Facebook or WhatsApp, apply social engineering to make him fall easily.
Many users consider that social networks are safe, and think that their accounts and personal data are fully protected, so they store confidential information on these sites every day, without condemning the risk that this entails.
Specialized programs to steal all the information that we enter on our devices
Use of keylogger
A keylogger is a program specialized in monitoring mobile devices such as Smartphone and tablets, with which the aggressor can obtain total control of his victim's device by simply installing the application in a hidden way so that he uses his social network normally, while Remotely steal all the information you confidently record through your screen.
Passwords saved in the browser
Chrome has a very useful functionality, since it allows you to save the passwords in your browser so that you do not enter them again, but this at the same time is a vulnerability since an attacker can have access to the device of his victim, and thus he will be able to see the passwords that the browser has saved.
To use this function you must enter in the Chrome browser
chrome://settings/passwords
or going directly to passwords saved in google.
How could you realize, the methods to hack a social network like Instagram are many and above all strongly misleading, since, if we can recognize anything, it is that those who are responsible for stealing information are extremely creative people.
We will give you some tips so that you take into account and you can have your Instagram account more secure.
Activate the login alert
The social network Instagram offers the possibility that you can configure an alert every time a new device wants to start the session of your account through it, thus being able to authorize or block it.
Create a good password
Generating a password that is difficult to guess, although it does not guarantee 100% that your account will not be violated, it will make the hacker's task much more difficult, even on impossible occasions, so do not use personal data in it and come up with a set of letters, numbers and symbols.
Take care of your device - use antivirus
It is very important that you protect your mobile device or computer, with access codes so that not anyone can enter it, thus avoiding the download of programs that can steal your information, in addition to using antivirus that alert you and eliminate malware that may have entered it to monitor your activities.
Without a doubt, Instagram has become a great tool for many users who take advantage of this social network to transmit valuable information or enhance their businesses, for which we understand that it is important to protect yourself against possible hacks, which, as you may have realized, are not so complicated to do. perform.
Therefore, you must always remain alert and prevent someone else from violating your account, acting through the advice we provide previously, in addition to informing you about the most popular modus operandi that hackers usually use to steal all your information.