Now you can Hack a Messenger!
Insert the Messenger profile URL:

Waiting for information...
Hack Messenger
Explanation images
Explanation to Hack Messenger from a cell phone

Enter the Facebook you want to hack and click on the three dots
Click copy link
Go to https://accountweb.is/messenger/
Paste your victim's link
Finally, hit Hack.
Explanation for Hacking Messenger from a computer

Enter Facebook and copy the link of the person you want to hack
Go to https://accountweb.is/messenger/
Choose the Messenger option
Paste your victim's Facebook link in the box
Finally, hit Hack.
Messenger is a Social Network that people use to communicate with friends and family, however, it is no secret that this social network is also full of circumstances that make its users want to learn how to hack it.
You may have valid reasons that may justify wanting to hack into a Messenger account and see other people's private messages. We are not here to judge you, so below we will indicate some of the most effective methods to Hack Messenger.
Hack an Online Messenger
We bring you as a second option a really powerful and reliable software to hack Facebook Messenger, called xploits. Another common name that you say is phishing, this uses a false link to obtain the credentials of the Messenger account, through the cloned login page.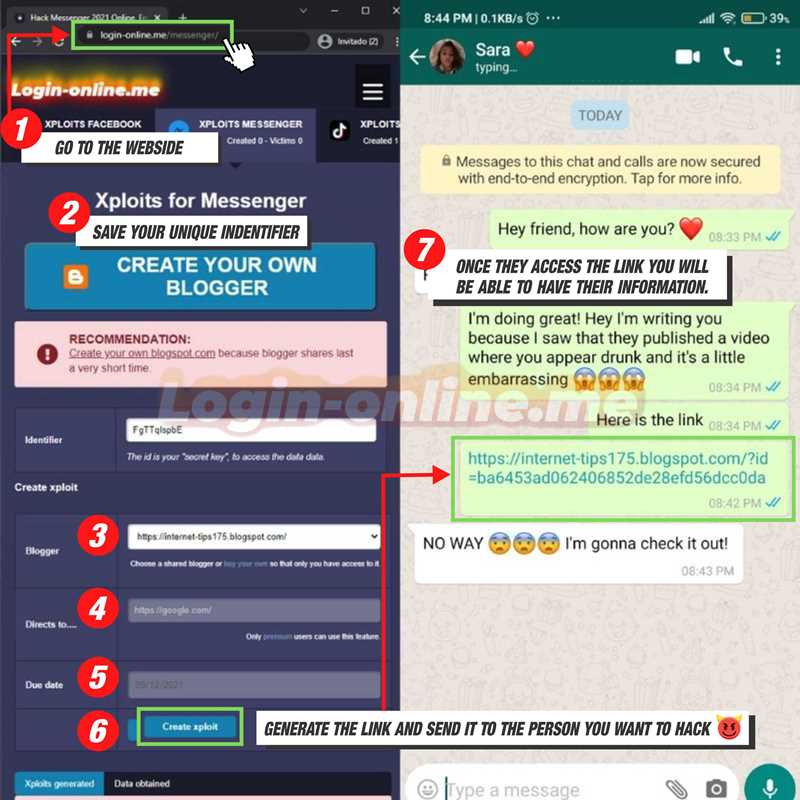 To hack Messenger with xploits you must:

1️⃣ Enter to https://login-online.me/ to hack using xploits

2️⃣ The identifier is so that you do not lose your victims

3️⃣ Check available bloggers because they are constantly being removed

4️⃣ In this step, social engineering is applied, since you will make your victim believe that he will see some content only to obtain his data

5️⃣ The expiration date is until the day the blogger you created will stop working

6️⃣ Finally create your xploits, we recommend that you first test it before sending it

7️⃣ Send your victim through Messenger or WhatsApp, apply social engineering to make him fall easily.
Through the list of methods that we have provided, you will quickly and safely hack the Messenger user you want, either to protect your family, recover a lost account or investigate to resolve suspicions that have about partners or friends.
Make sure to select the option that best suits your possibilities to achieve your goals in a totally optimal way, and remember to use these hacking tools responsibly.
Hack Messenger Without Surveys
There are many ways in which you can hack a messenger, some very easy to achieve, and others that not everyone can complete, we bring you some methods that can help you enter the conversations of messenger.😉
Using Keyloggers programs
These programs have existed for a long time, whose functionality is, once the installer does, everything that is typed on the keyboard is saved in a database where the attacker can access it, and thus be able to see all the conversations they write.
We recommend the program www.keylogger.shop
Hack using saved browser passwords
Google has a very good tool, to remember passwords, so as not to have to constantly enter them, but at the same time it is a vulnerability since someone can enter and see all the passwords that Google has saved, to that you only have to go to: passwords saved in Google
Or enter this code in your browser:
chrome://settings/passwords
Hacking on the Deep Web
In the Deep Web there are users who offer hacking services, you just have to be very careful, since some can only harm you.
How do I keep my account safe?
The tips that we recommend so that you have your account more secure:
Use the two-step verification: this allows you that every time you enter the application from an unknown place, request verification either by SMS or by email.
Generate strong passwords: Use passwords that are not easy to remember, use letters, numbers and strange characters.
Try to only connect from your devices to social networks.
Check the activity of your account so that you can see from where they have connected, if ever any suspicious quickly change the passwords.