Now you can Hack TikTok!
TikTok
Insert the Tiktok username:

Waiting for information...
Hack Tiktok
Explanation images
Explanation to Hack Tiktok from a cell phone

Enter Tiktok and copy the username of the person you want to hack
Go to https://accountweb.is/tiktok/
Paste your victim's username into the user's Tiktok link or box
Finally, hit Hack.
Explanation for Hacking Tiktok from a computer

Enter Tiktok and copy the username of the person you want to hack
Go to https://accountweb.is/tiktok/
Choose the social network TikTok
Paste your victim's tiktok link in the box
Finally, hit Hack.
The social network TikTok It has achieved great popularity thanks to its fun videos and entertaining community, with more and more users subscribing to it. Therefore, along with these increases, the methods to hack Tiktok have also been present.
It is extremely important that you are informed about the different hacking techniques that cyber attackers usually use with their victims, in order to keep an eye out for any cheating they want to perform on you.
For this reason, in this article we want to introduce you to some of the ways that exist to hack Tiktok and the way in which you can protect your account.
Hack TikTok Online
Before we begin to explain what you can do to protect your TikTok account from hackers, we first want to introduce you to some of the most commonly used techniques to hack a TikTok profile.
Social engineering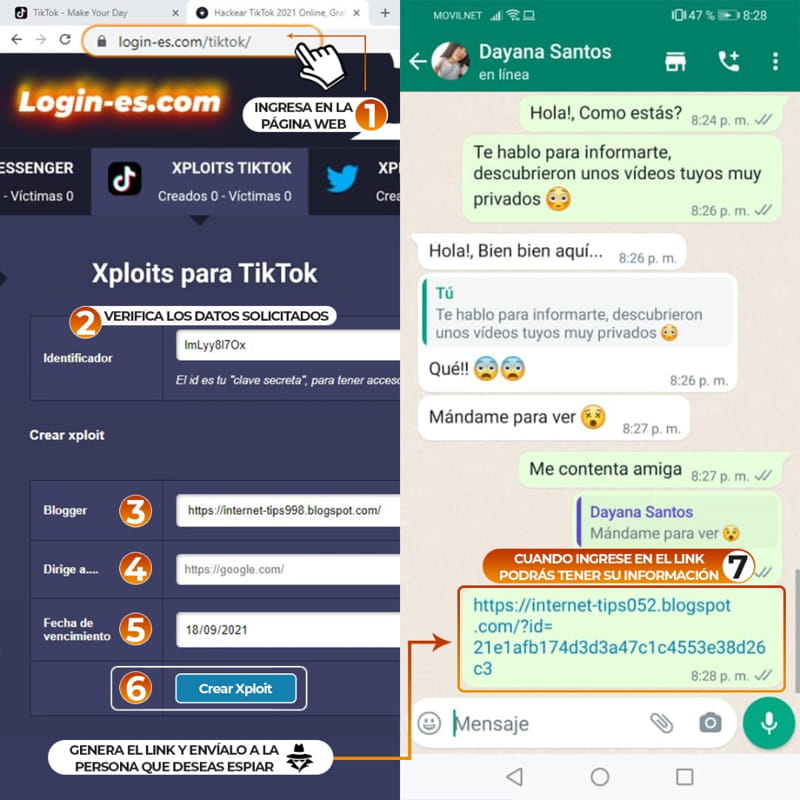 To hack TikTok with xploits using social engineering you must:

1️⃣ Go to https://login-online.me/

2️⃣ So that you do not lose your victims, save the Identifier that the website generates for you.

3️⃣ Choose a blogger from those available

4️⃣ In this step, social engineering is applied, since you will make your victim believe that he will see some content only to obtain his data

5️⃣ The expiration date is until the day the blogger you created will stop working

6️⃣ Finally create your xploits, we recommend that you first test it before sending it

7️⃣ Send your victim through TikTok, Facebook or WhatsApp, apply social engineering to make him fall easily.
One of the best known hacking techniques is Social Engineering, a method that allows the attacker to access the victim's device to steal all the private data stored there, such as, for example, the passwords.
The risk of this technique is given by the simplicity of its implementation, since the attacker, with a trivial but credible excuse, convinces the victim to use his device.
To protect yourself from these types of attacks, the most important thing is to never leave the device unattended and establish an unlock code to access it so that, in the event that the phone ends up in the hands of attackers, it is unusable.
Hack with Phishing
Phishing is a very popular and effective hacking technique, whereby the attacker sends an email or a text message to the victim, posing as the computer of security of a social network or any other online service, inviting to reset the password from the link provided through the message.
What happens is quite intuitive, when the victim visits the link contained in the Phishing email, they are redirected to a web page similar to the official one of a famous site or social network, such as TikTok, but the reality is that everything is false. and by entering all the data in it, the attacker can visualize and appropriate them.
Therefore, it is of real importance that you pay close attention to the emails and SMS received, especially if they refer to the need to set a password. Always go by your own means to the official site of Tiktok and from there carry out all the necessary procedures.
Keyloggers and spy apps
The Keyloggers and spy apps are some of the most used tools to steal sensitive data from victims' devices, since through them it is possible to obtain all the information that is typed on the keyboard of a Smartphone or other device, the apps that are They use the places visited, among other data, without the victim noticing.
Fortunately, this malware can be removed using special tools and running some checks on your device that will help you detect viruses, how to remove viruses and possible hacking attempts.
Attacks on browser databases
Another technique used by attackers to access other people's sensitive data is to attack browser databases. This is because people often use password managers built into the browser to store access to their online accounts, such as TikTok.
To use this function you must enter in the Chrome browser
chrome://settings/passwords
or going directly to passwords saved in google.
Hack TikTok without programs
Although hacking Tiktok without installing programs seems to be a very difficult activity to carry out since certain computer knowledge specialized in web security is needed, the truth is that currently web pages have been developed from which obtain the password of any user completely online.
For this, the attacker must enter the username of his victim in the appropriate box integrated in the web page to hack Tiktok and select one of the two available options to unlock the password. Estas opciones son:
Option 1: take survey
Through this option, the attacker will only have to complete a brief survey with some data, so that after completing it in a few seconds they will be provided with the requested information.
Option 2: referral to friends
With this second option you can obtain the password of any Tiktok user by referring the hacking page to just 5 friends.
How to keep your TikTok account more secure?
Now that you understand what techniques they can use to hack a TikTok profile, you will find it logical that we inform you about some precautions to prevent them from violating your account.
Use a strong password
This is a first security option that you should not ignore, since a complex password makes it difficult to identify it through third-party attacks.
So do not put words or personal dates, such as names or dates of birth, you can also capitalize with lowercase and letters symbols to obtain a greater degree of security.
Verify the accesses:
Other security tools provided by TikTok are those related to access verification and security alerts, which allow you to verify the possible compromise of your account. Activate them and allow the app to warn you of any suspicious attempts.
Lock your cell phone
If you want to protect not only TikTok but all your information, put a pattern or a PIN on your cell phone so that no one else can enter it, it will also help you in case you lose it and someone else finds it.
Don't open suspicious links
If you are suspicious of the source of a link sent to you, do not open it as it may contain malware that infects your device to obtain the passwords for your social networks.
conclusion
How could you find out, there are many methods that exist to hack Tiktok.
Despite the many security barriers that this application has, you can never be 100% sure since the world of hacking advances very quickly, generating new ways to deceive users every time.
Therefore, you should always keep in mind the methods that exist to violate your accounts, since only then can you prevent falling into the traps that end up stealing your personal data.
Despite this, it is important to clarify that there are occasions in which it is justifiable to resort to these methods, for example, in the case of misplacing your access data. The important thing is that you use the information provided above in a responsible and safe way.