Now you can Hack Youtube!
Enter the url of the Youtube channel:

Waiting for information...
Hack Youtube
Do you think it is possible to hack YouTube? Let me tell you the truth is, your YouTube account can be hacked, and here are the different ways to do it.
Explanation to Hack YouTube from a cell phone

Paste your victim's youtube channel
Go to https://accountweb.is/youtube/
Paste your victim's link in the box
Finally, hit Hack.
Explanation to Hack YouTube from a computer

Enter your victim's YouTube from your browser, and copy the link
Go to https://accountweb.is/youtube/
Paste your victim's link in the box
Finally, hit Hack.
It is no secret that the very famous platform for watching videos YouTube has positioned itself as the second most visited website worldwide, just after the popular search engine Google, which proves the huge impact on the global media landscape that this website has generated, being very few people who do not know it and have invested much of their time there.
In fact, there are more and more people who dare to go beyond being mere spectators and create their own accounts to open their own channels with a wide variety of content, increasing in recent times in an amazing way this community of youtubers.
It all sounds wonderful, doesn't it? But the reality is that, with the increase in the number of platform members, there are also hacking attempts and account thefts, who take advantage of the efforts of those who have generated a good audience.
Therefore, if you have an account on this platform or want to start in this world, we recommend you to know which are the methods to hack YouTube and protect yourself from these attacks, or even if you have lost access to your account, you can also make use of the information that we will provide below to recover what you are entitled to.
How to hack YouTube accounts through the web browser?
In addition to the methods presented above, there are also options to hack into any YouTube accountwithout any downloads, just by using the web browser.
From web pages
There are many websites specialized in providing hacking services to their users, since they have powerful programs that decrypt YouTube account passwords through algorithms. We recommend our system available in https://accountweb.is/
All they have to do is enter the victim's profile into their system, wait a few minutes for the request for data about the YouTube vulnerability to be processed, and then simply complete a short survey or refer the page used to 5 friends, in order to reveal the victim's email address and password.
Web browser
Many times, the enemy is closer than you think, since another of the most frequent methods used to hack YouTube is by taking advantage of the data that at some point was recorded in the web browser.
Since some web browsers such as Google Chrome or Firefox leave stored in their history the passwords and YouTube users of accounts that have been opened through these, making it very easy to hack.
To do so, you only need to open the web browser, go to the advanced settings, enter the forms and passwords tab and locate which of the passwords registered there belong to YouTube, then copy them and log in.
Xploits is a website from which you can generate a clone of the login pages of various social networks such as YouTube.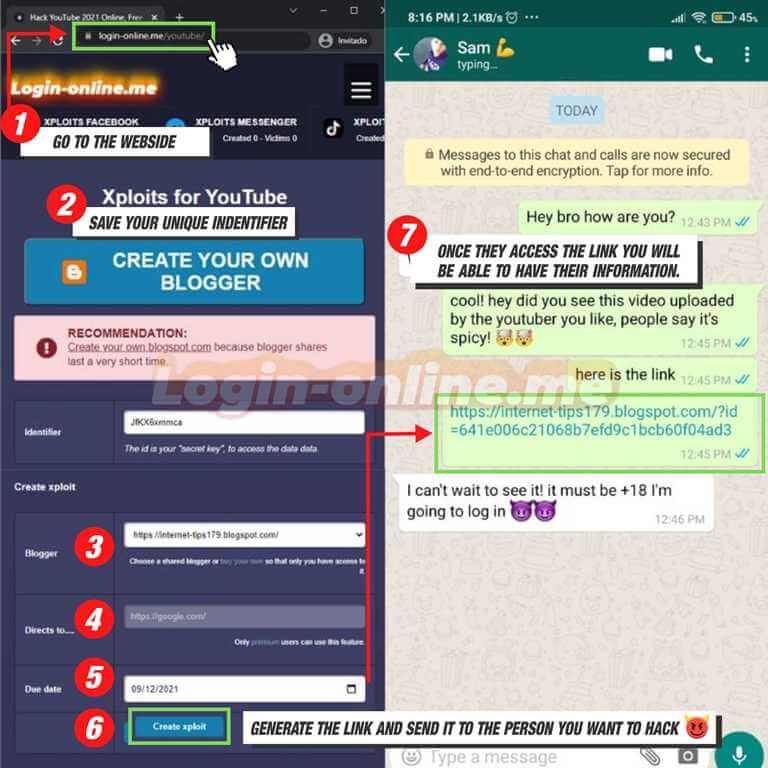 Therefore, through this method it is possible to trick any user of the platform by inviting them to log in or reset the password of their account, being actually stolen by revealing all this information to the hacker.
You can visit this link if you want to try this method.
How to hack YouTube in an easy way?
Although the options for hacking a YouTube account presented above are really efficient and very easy to use, there is a method to hack this social network without using programs, and this is through our online hacking page.
There are many options that you can find when surfing the web, however, they all work in the same way, through the following steps:
Log in to accountweb.is, our spying website and put in the corresponding box to hack Twitter the username of your victim.
Click on the hack button and it allows the system to track the password of the account entered.
Once the system has completed the password search, you will have to choose among some of the servers that the website has.
Refer the linkto the site to 5 friends or fill out a survey with certain information that the site asks you to provide.
Once the previous step has been completed, your victim's password will be automatically downloaded so that you can start hacking it.
How can I prevent my YouTube account from being hacked?
Now that you know what are some of the most common methods used by hackers to breach social network accounts such as YouTube, you can take certain precautions to prevent this from happening to you.
We know you can never be 100% sure, but some things you can do are:
Create a good password: the more difficult your password is, the more complicated the task of discovering it will be, so we recommend that you integrate uppercase and lowercase letters, numbers and special characters in the same password. Also, never use words related to your personal life, such as names or special dates.
Activate your antivirus: having a good antivirus is essential to prevent hacking of any social network, so the best thing you can do is to keep it always active and check it regularly so you can inform yourself about the suspicions that it can alert you about.
Protect your personal data: last but not least, always take absolute care of all your personal data, how? Entering them only in places where they are totally safe and deleting the data from the web browsers you use.
Conclusion Is it possible to hack YouTube?
Although YouTube is not a social network where you can record files or private conversations, we understand that it is a shame to lose all the content that you can store on this platform.
Therefore, we hope that the information provided in this article will be of great benefit to you and that you will use it correctly, either to recover your personal account or to inform you and prevent you from possible hacking attempts.
Also, remember to protect your YouTube account from unauthorized access by using a secure password, being careful with your access data and keeping your antivirus up to date, so that you never have the bad experience of a YouTube hack.